Increasingly over the past year we have witness a growing number of market participants providing commentary on a pending inflection in global interest rates. Of particular focus has been the impact a global reflationary environment and rising interest rates will have on valuation, principally for equities that investors buy mainly for their perceived yield (commonly referred to as bond proxies) and the ramifications this has for broader asset allocation. While most bond proxies trade at or near their historic high valuations the benefit of record low interest rates has not lifted all.
One business that on first inspection would fall into most investor's bond proxy basket and therefore be potentially overlooked is Chinese oil and gas infrastructure company Sinopec Kantons. If investors dig a little deeper and look under the bonnet we believe an attractive opportunity exists, both through underappreciated earnings growth and valuation re-rating. Listed in Hong Kong, Sinopec Kantons is engaged in two primary businesses:
oil terminals and storage facilities

gas transmission pipelines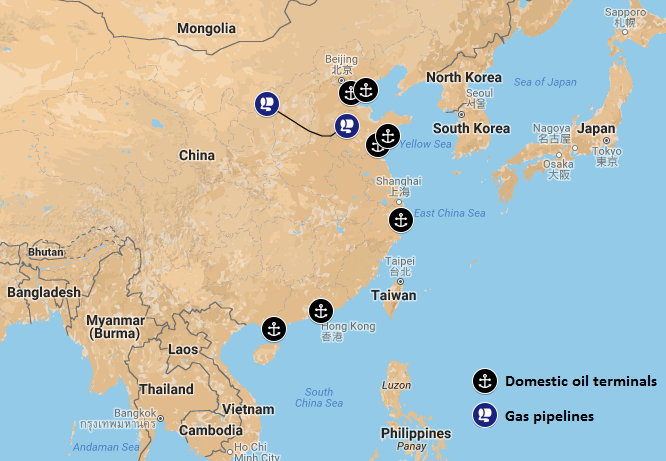 Oil terminals
Through ownership in seven crude oil terminals across China, Sinopec Kantons is responsible for over 50% of seaborne oil imports coming into Mainland China. The oil terminal business is a volume based business, with the company paid to unload, transport and store oil. Sinopec Kantons' terminals primarily service shipments destined for the Sinopec Group's refining network throughout China and are virtually monopolies or duopolies within their respective hinterlands. Six of the seven terminals are joint venture arrangements with local port authorities which aids in protecting their position from new competition.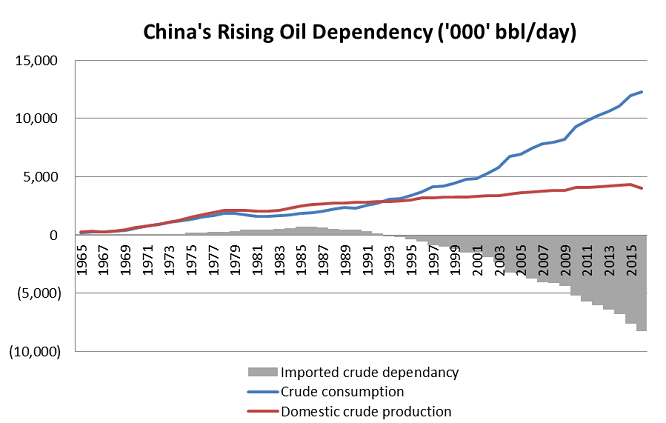 Ownership of these assets makes Sinopec Kantons one of the primary beneficiaries of China's growing dependency on imported crude oil. As the above chart shows, over the last two decades China has become increasingly reliant on crude oil imports as strong demand outstripped production growth in the countries aging domestic fields. While consumption continues to rise in China, albeit at a more moderate pace, domestic production has plateaued in recent years and actually declined in 2016 due to the high cost nature of domestic fields. This dynamic led to crude oil imports growing 14% year-over-year last year.
We anticipate China's dependency on imported crude oil will continue to grow. Domestic crude production is likely to remain under pressure given China's two largest domestic producers, CNPC and Sinopec Group, have breakeven points above US$50 per barrel for their domestic operations. Secondly, growth in the number and scale of independent refineries not linked to the three large state-owned oil and gas producers will drive incremental demand as the quotas are adjusted upwards. We expect crude oil imports to grow in excess of 10% per annum over the next two to three years. Sinopec Kantons with their dominate market position will lay claim to a very large share of these volumes.
Gas pipelines
The favourable structural backdrop supporting the oil terminal business has been offset by the underperformance of Sinopec Kantons natural gas pipeline assets which were acquired at the end of 2015. While the terms of the acquisition initially looked favourable, gas supply and demand dynamics within China have deteriorated in large part due to the low oil price environment which has made substitution less attractive. The magnitude of the supply and demand imbalance was felt the hardest in Sinopec Kantons' major market of Shandong which has seen an influx of supply arrive from take or pay contracts coming from Australia and PNG natural gas projects.
The economics of the pipeline business is very similar to that of the oil terminal business in that Sinopec Kantons is paid for the transmission of natural gas through their pipeline. The pipeline links Sinopec Group's domestic gas fields in Shaanxi Province to end markets in Shandong and Henan. While volumes have remained stable, a shift in volume mix to provinces with lower tariffs has resulted in a significant decline in revenues.
Despite the recent decline in divisional earnings the quality of the underlying assets remains high. Volume mix reached an inflection point in the second half of last year and the longer term outlook for the pipeline business remains favourable. The Chinese Government remains steadfast in its desire to reweight its energy mix away from coal with natural gas one of the preferred replacements longer term. The official target is for natural gas to account for 10% of China's energy consumption by 2020, up from 5.9% in 2015. This aggressive target has led to the introduction of supportive policies aimed at stimulating consumption.
Furthermore, market consensus is expecting very little growth for Sinopec Kantons' pipeline volumes into the Shandong market which we view as highly conservative. If the Shandong market does recover quicker than expected, leading to a recovery in Sinopec Kantons volumes, it will have a positive impact on the average tariff charged and result in a material upgrade to earnings estimates.
Valuation
The ill-timed acquisition and subsequent earnings uncertainty of the pipeline business has acted as a significant overhang for the share price over the past year. These concerns have created an obvious valuation anomaly. Despite the strong position of Sinopec Kantons' oil and gas assets and the favourable longer term outlook for both oil imports and gas demand, the business trades at 1x its trailing book value and investors who buy the stock today are receiving a 10% post-tax earnings yield.
The current valuation is at a post Global Financial Crisis low and is a significant discount to mid-stream gas distributors and port operators in China who trade at 20-30% premium on a price-to-book basis despite inferior returns. We believe Sinopec Kantons should trade at a premium to these operators given the stronger growth outlook and returns profile. If we cast our gaze even wider, the valuation discount is more pronounced with Sinopec Kantons trading at 50-100% discount to comparable global operators.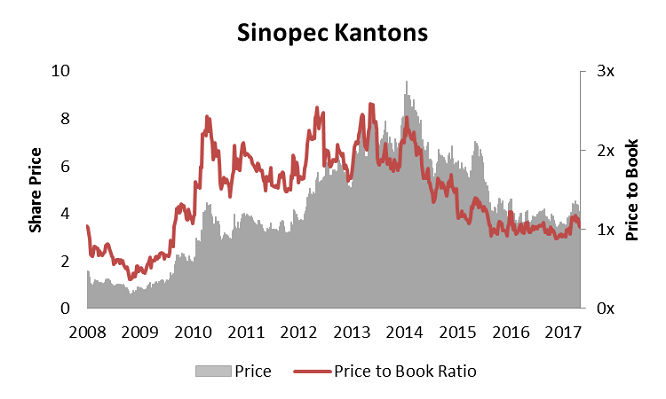 Considering the outlook we anticipate Sinopec Kantons can achieve mid-teens earnings growth per annum over the next three years. If these growth expectations are achieved Return on Equity (ROE) will also improve to a normalized level of 13-14%. We also see scope for improved capital returns to shareholders via an increase in the payout ratio on account of the moderating capital expenditure requirements. We believe a confluence of these factors will drive greater investor interest and lead to an eventual valuation multiple rerating, leading to likely share price gains.