PM Capital has been appointed as the Investment Manager of the Company.
PM Capital, founded in 1998 by its Chief Investment Officer and Chairman, Paul Moore, is a globally-focussed fund manager that manages money on behalf of private clients, the clients of financial advisers and institutions. It has offices in Sydney, Melbourne, and Brisbane.
Why PM Capital? 
Performance
PGF's and GO 2025's Investment Strategy will be managed consistent with PM Capital's unlisted managed investment scheme, the PM Capital Global Companies Fund (ARSN 092 434 618), and other associated global mandates.
The PM Capital Global Companies Fund ("Fund") is in its 20th year. Since inception the PM Capital Global Companies Fund had generated compound returns DOUBLE that of the MSCI World Net Total Return Index ("Index") after all fees and expenses*
For both Financial Year 2017 and Calendar Year 2017, PM Capital's managed funds and mandates appeared as #1 ranked for fund performance over 5, 7 and 8 years compound returns in their Morningstar peer group of over 140 peers. The table below shows fund/mandate returns and peer ranking over the 5, 6, 7, 8, and 9 year compound returns to 31 December 20172.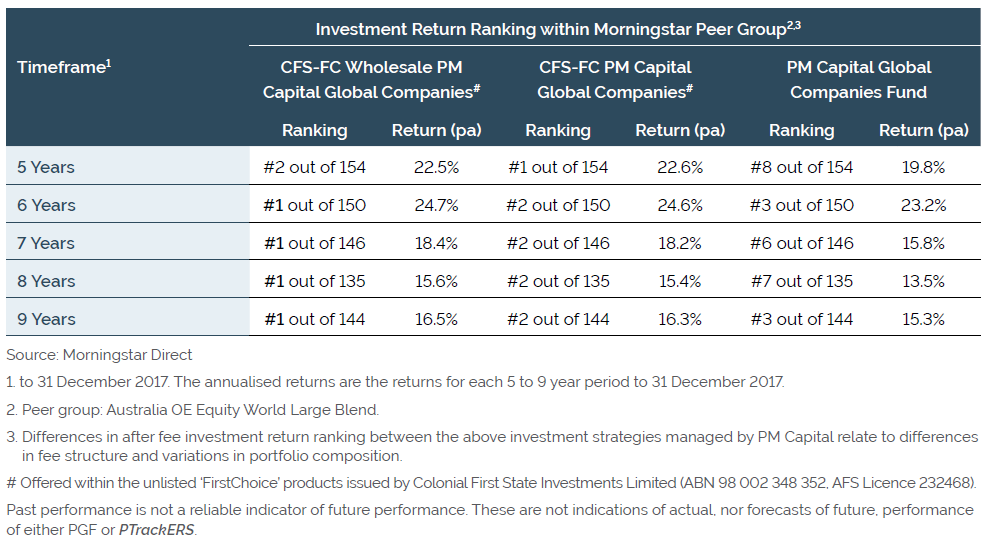 Coloured Grid Items
Experienced Investment Manager
Body
Based on Paul Moore' 30 years' experience and PM Capital long tenured team, we look to achieve strong long term investment returns using our effective investment process and philosophy.
Investing with our clients
Body
PM Capital and its staff are together the largest shareholder of PGF, holding 8.9%.
As co-investors alongside are fellow shareholders, our investment team seek to access a unique subset of global opportunities off the radar of most Australian-based investment managers.
Body
We invest from an Australian-based perspective, but can scan the globe for what we believe to be the best opportunities in which to invest our, and your, capital for long term wealth creation.
Body
Our track record and awards won since inception in 1998 provides evidence of the successful application of our investment knowledge and experience.
PM Capital has won numerous awards, including Money Management/Lonsec 2018 Fund Manager of the Year in the equities long/short category.
Awards
Winner - Lonsec / Money Management Global Long/ Short Equities Fund Manager of the Year 2018
Finalist - Zenith / Professional Planner International Equities (Alternative Strategies) Fund of the Year 2017
Finalist - Zenith / Professional Planner International Equities (Emerging Markets and Regional) Fund of the Year 2016
Winner - Zenith / Professional Planner International Equities (Alternative Strategies) Fund of the Year 2015
Winner - Australian Fund Manager Foundation Best Australian Based Global Equity Manger of the Year 2015
Finalist - Morningstar Awards for Best Undiscovered Manager (Asia Companies Fund) 2014
Finalist – Australian Fund Manager Awards for Best Global Equity Fund 2013
Finalist - Professional Planner Zenith Fund Awards  for Best International Equities Alternative Strategies 2013