Kevin Bertoli reports on why some Asian financial stocks look attractive.
One area of significant new investment in both the PM Capital Asian Companies Fund and the listed PM Capital Asian Opportunities Fund* during the past year was in financial stocks, where the portfolio exposures rose to circa 18%. This holding consists predominately of traditional banking businesses across the region.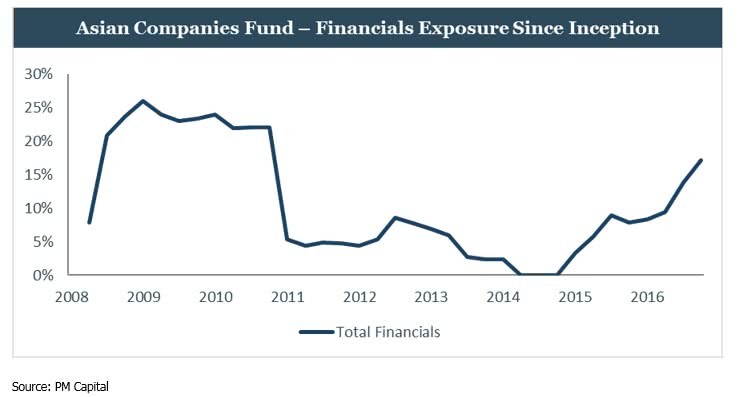 Two of the holdings acquired over the past year have been Singapore listed DBS Group and Hong Kong listed Industrial and Commercial Bank of China (ICBC).
DBS Group, acquired in November 2016, is one of the largest financial services and banking groups in the Asia region and has built a strong presence across South East Asia. The business is well capitalised and we believe investors are underestimating management's commitment to liberating excess capital that has built up on balance sheets since the Global Financial Crisis. This is a similar investment proposition to our holding in HSBC Holdings. These businesses, which have been confronted with the persistent headwind of low interest rates, will also be major beneficiaries of a global reflationary trade. Rising Net Interest Margins and improved capital management will materially improve returns, leading to a rerating of valuation which remain substantially below long-term averages.
Conversely the investment made into ICBC in February 2017 was predicated on an entirely different investment rationale. The Chinese banking sector has been plagued by concerns around asset quality over the last 4-5 years which has led to a material erosion to valuations. PM Capital highlighted these exact concerns back in 2011 when we sold our Chinese banking exposure.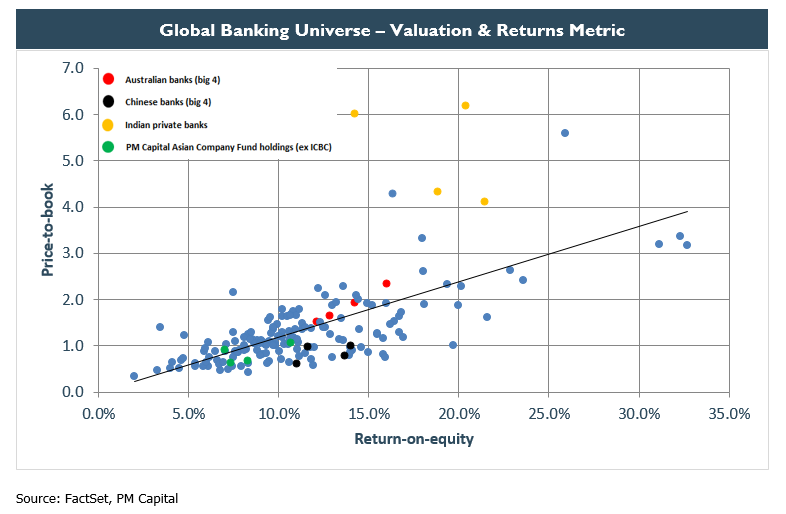 Fast forward to 2017 and we believe the market attitudes towards the sector had reached an extreme and the risk reward proposition was in favour of holding a tier one Chinese bank like ICBC. We do not advocate that current Non-Performing Loans (NPL) ratios of Chinese banks at 1.5-2% are adequately reflecting the level of non-performing loans within the sector however valuations at roughly 5.5x trailing earnings and 0.8x price to book at the time of our investment were factoring in extreme circumstances (our modelling suggests mid to high teen NPL ratios).
Since entering into the ICBC position the company has been benefiting from an improvement in the underlying economic conditions within China has led to renewed optimism regarding the Chinese banking sector. Recent results releases from the major state-owned banks have also shown improved trends in net interest margins and asset quality.
Kevin Bertoli, Portfolio Manager - PM Capital Asian Companies Fund, PM Capital Asian Opportunities Fund.
*PM Capital is the Investment Manager of the PM Capital Asian Opportunities Fund.