Funds management is a bit like professional sport, says Jarod Dawson, Portfolio Manager. There is no hiding from your results – they are there for all the world to see. For an investment firm to achieve longevity, like professional athletes, you need to build a long term track record of delivering when it counts.
To illustrate this, I thought it might be useful to highlight what we think has been one of the Enhanced Yield Fund's real success stories over the past 17 years or so - one that sometimes goes unnoticed. 
The Fund has endured and subsequently thrived through some pretty volatile market periods since its inception, including the aftermath of the dotcom bubble in the early 2000's, the global financial crisis in 2008/09, the European debt crisis in 2011/12, various Chinese growth scares, volatility around Brexit, and certain, shall we say, "surprising" election results!
Our valued investors and those considering the Fund might be interested to know that, on the rare occasion that the Fund experiences a negative performance month, the longest that it has ever taken to recover that performance is just three months – and this was during the depths of the GFC!
The average time to recovery for the Fund over its 17+ year history is actually only 1.4 months*. Put another way, most of the time when we have experienced a negative performance month, we have gained that performance back within a month or so. 
We attribute this success to one of the Fund's key objectives - to achieve its performance goals with a low degree of volatility. It is testament to the fact that markets, after a period of often extreme short term volatility, come to their senses and initially start investing back into the better quality businesses of the day.
We believe that the very short historical time to recovery for the Fund is further evidence that the research process we adopt at PM Capital – which is focussed on identifying what we think are the best businesses and genuine anomalies in global fixed income markets - adds true value for both PM Capital and our co-investors. 
Click here for more information on the PM Capital Enhanced Yield Fund.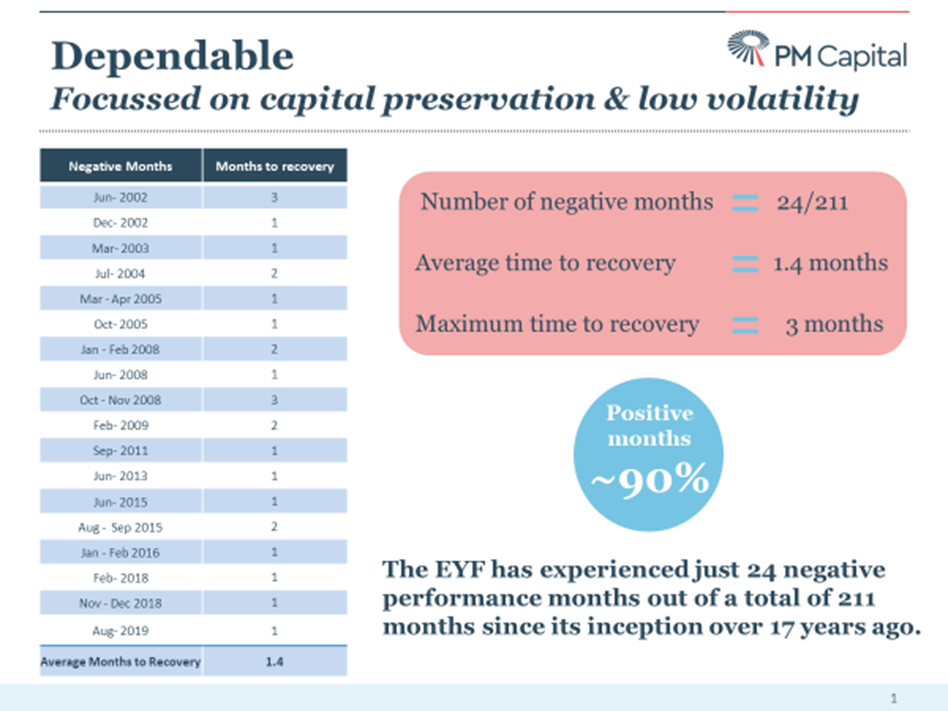 More on the Enhanced Yield Fund
Subscribe for more insights to your inbox!
*Calculations are based on exit price with distributions reinvested, after ongoing fees and expenses but excluding individual tax. From Fund inception 1 March 2002 to end September 2019. These figures represent past performance only. No guarantees exist of future returns above or below these figures. Past performance is no indication of future performance. Neither PM Capital Limited nor any other person makes any representation as to the future performance or success of, the rate of income or capital return from, recovery of money invested in, or income tax or other taxation consequences of, any investment in the trusts shown on this site. This information does not constitute advice or recommendations, and is subject to change without notice. It does not take into account the objectives, financial situation or needs of any investor which should be considered before investing. Investors should consider a copy of the current Product Disclosure Statement which available from us, and seek their own financial advice prior to investing.